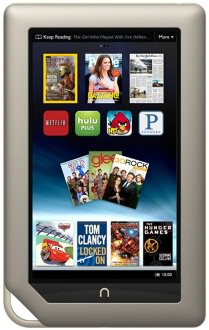 NEW YORK - Books and bits united Monday as Microsoft provided an infusion of money to help Barnes & Noble compete with top electronic bookseller Amazon. In exchange, Microsoft gets a long-desired foothold in the business of e-books and college textbooks.
Microsoft Corp.'s $300 million investment sent Barnes & Noble Inc.'s stock zooming up $9.15, or 67 percent, to $22.83 in early-afternoon trading.
The opening price of $26 was a three-year high. Microsoft's stock rose 2 cents, to $32.
The two companies are teaming up to create a subsidiary for Barnes & Noble's e-book and college-textbook businesses, with Microsoft taking a 17.6 percent stake.
The deal gives Barnes & Noble ammunition to fend off shareholders who have agitated for a sale of the Nook e-book business or the whole company.
But the companies said Monday that they are exploring separating the subsidiary, provisionally dubbed "Newco," entirely from Barnes & Noble. That could mean a stock offering, sale or other deal.
The deal also puts to rest concerns that Barnes & Noble doesn't have the capital to compete in the e-book business with market leader Amazon.com Inc. and its Kindle, said David Strasser, an analyst at Janney Capital.
For Microsoft, the investment means that it will own part of a company that sells tablet computers based on Google Inc.'s Android, one of the main competitors of Windows Phone 7, Microsoft's smartphone software.
Microsoft also said the deal means that there will be a Nook application for Windows 8 tablets, set to be released this fall. The app is likely to get a favored position on Windows 8 screens.
There already is a Nook application for Windows PCs, but none for Windows phones.
William Lynch, CEO of Barnes & Noble, said Nook software will continue to be available on devices like the iPhone that compete with Windows Phone.
He declined to say whether it was Barnes & Noble or Microsoft that initiated the discussions, but he said the talks had been going on since before the beginning of the year.
"We have been circling the relationship for quite a long time," Microsoft President Andy Lees added.
Barnes & Noble currently runs 691 bookstores in 50 states.
by Peter Svensson - Apr. 30, 2012 05:52 PM AP Technology Writer
B & N, Microsoft team up on Nook